Claiming Points for Work Experience
You can claim points for work experience you have undertaken in the past as part of your expression of interest for the skilled migrant category resident visa (note: this is different from claiming points for skilled employment, which refers to your current job offer in New Zealand or current employment in New Zealand)
Skilled work experience qualifies for points as set out below: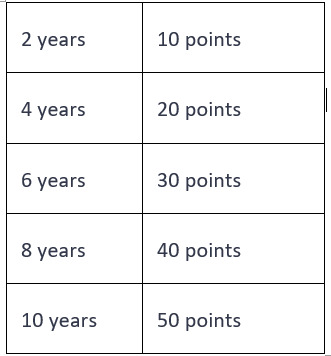 Points are calculated on the basis of every two complete years of skilled work experience up to a maximum of ten years e.g. Three years of skilled work experience qualifies for 10 points.
How is Skilled Work Experience Recognised?
An applicants work experience can be in:
In other words, if someone is claiming points for past work experience that "substantially matches" with an occupation that is skill level 1, 2, or 3 according to ANZSCO, then it won't need to be from the same occupation from which the person is claiming points for their current job/job offer (i.e. Skilled Employment).
All that needs to be shown is

The past work experience "substantially matches" a corresponding ANZSCO code under skill level 1,2, or 3 and;

The person was "suitably qualified" before they were employed to do that job
What does 'substantial match' to an ANZCO occupation mean?
Essentially, the work experience must display the characteristics of an occupation in terms of the relevant ANZCO 'Unit Group' description of tasks for that role. You can view a range of ANZCO occupations and their task descriptions here.
What does it mean to be 'suitably qualified'?
An applicant will be assessed as suitably qualified if they hold a relevant qualification as specified in the ANZSCO for that occupation (i.e. bachelors degree, certificate etc).
Alternatively, if this is not the case, a person may be identified as 'suitably qualified' due to prior work experience. The work experience must be relevant and required.
Required qualifications or experience can be understood by observing the below table
Relevant means the applicants qualification and/or work experience was one of the main reasons for you to get the job in the first place or qualification and/or work experience was directly applicable to the current job
Case Study Example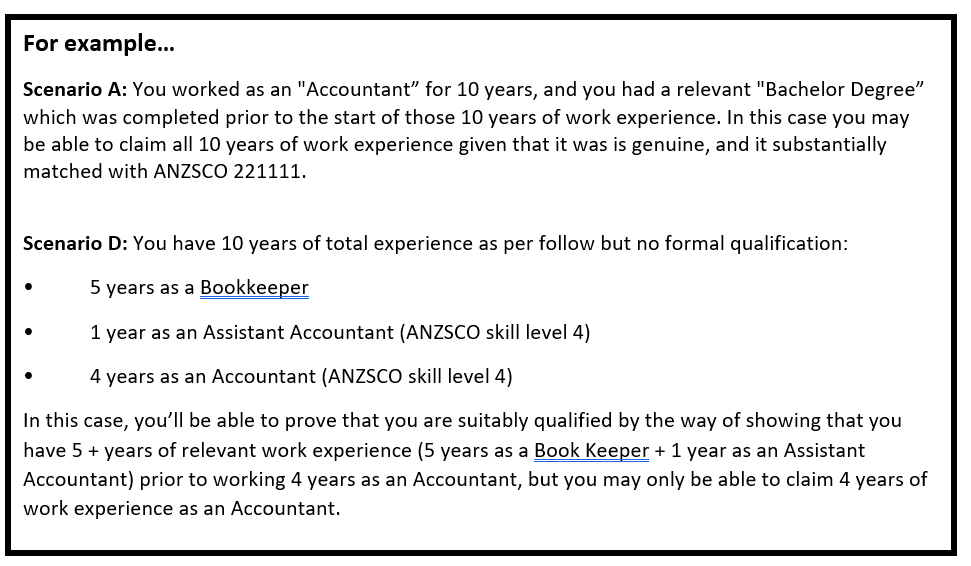 Additional Information to Be Aware Of
Work experience only qualifies for points if an immigration officer is satisfied that the principal applicant's work experience was lawfully obtained.
Work experience will not be recognised if it was gained while in a country where the principal applicant was either an unlawful resident or required authority to undertake employment, but did not have such authority.
Calculation of levels of work experience must be for complete weeks based on a 30-hour week.
Credit is given for 30-hour weeks only, even though a principal applicant has worked more than 30 hours in any week.

For example: Fifty-two 60-hour weeks are equal to one year's work experience.

Credit for part-time work experience may be given on a proportional basis.

For example: Four years work experience for 15 hours per week is equal to two years work experience for a 30-hour week, and therefore qualifies for 10 points.
Bonus Points
You may claim up to 10 bonus points if: you have work experience in New Zealand of one year or more
You may claim another 10 bonus points if: you have work experience in an area of absolute skills shortage  for 2-5 years
You may claim up to 15 bonus points if: you have work experience in an area of absolute skills shortage  for 6 years or more
What countries can I claim work experience from?
You can claim skilled employment points for work  obtained in a 'comparable labour market'; unless it features on an Essential Skills in Demand List, and you meet its requirements.
For INZ, the following countries constitute a labour market comparable to New Zealand:
Australia
Greece
Macau
South Africa
Austria
Hong Kong
Malta
South Korea
Belgium
Hungary
Malaysia
Spain
Canada
Iceland
New Zealand
Sweden
Cyprus
Ireland
Netherlands
Switzerland
Czech Republic
Israel
Norway
Taiwan
Denmark
Italy
Poland
United Kingdom
Estonia
Japan
Portugal
United States
Finland
Latvia
Singapore
France
Lithuania
Slovak Republic
Germany
Luxembourg
Slovenia
For other requirements to apply for Expression of Interest (such as health, character and english language requirements) in detail, view our
guide to applying for the skilled migrant category resident visa.