Progressing to New Zealand Citizenship from Residency
Gaining Permanent Residency in New Zealand is a proud achievement for many and may lead to New Zealand citizenship for some. There are a number of requirements that must be met in order for a permanent resident to apply for NZ citizenship. These include;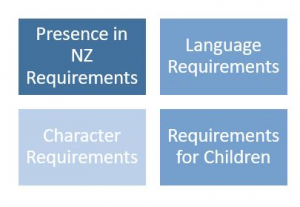 Presence in NZ Requirements: 
A permanent resident must show they have been physically present in NZ for a certain amount of time, and that they intend to continue living in NZ.
More specifically, in order to obtain citizenship a permanent resident must show:
The person has been living in NZ as a resident for at least

5 years 

(if you are an Australian citizens or permanent resident, you can apply for NZ citizenship as well if you have lived in NZ for at least 5 years)

You have been present in NZ for a total of at least

1,350 days

(and for at least 240 days in each of the 5 years)
You intend to keep living in NZ once you become a citizen.
Example: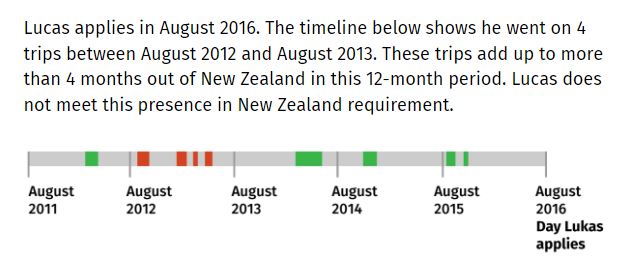 Language Requirements
In order to obtain NZ citizenship, it is important that you are able to hold a basic conversation in English. Your English will be assessed in different ways depending on how you apply for citizenship.
If you apply for citizenship in person, the case officer will check your English at the appointment. If your English is not considered to be at the appropriate level, the case officer will provide you with further instructions on your next steps.
If you apply online or by must, you must provide accompanying documents to your application which prove you can speak the appropriate level of English. Accepted documents according to the NZ Government are as follows:
School certificate
School report
IELTS form
Employer reference letter
University academic record
University certificate
You may be asked by a case officer to come in for an interview.
Character Requirements
You will only be accepted as a NZ citizen if you can show you are of good character. This will usually be met if you have never been in trouble with the law in NZ or overseas.
Parking tickets or speed camera fines will not affect this unless you have 100 or more demerit points on your drivers licence or a recent pattern of other fines or infringements in NZ or elsewhere.
Examples of offences which are likely to cause citizenship to be refused are:
if there are charges pending against you in any country
if you have been convicted of a crime in the last 3 years
if you have spent any time in prison in the last 7 years
if you have ever had a prison sentence of more than 5 years
if you have an undischarged protection order
if you have been an aggressor in family violence or family harm (unless you are able to show character references from people you know who suggest you will not commit violence in future or you have taken actions to address the behaviour such as a family violence programme)
Requirements for Children
Children do not need to meet the same requirements as adults in order to gain citizenship. Children do not need to have spent a specific amount of time in New Zealand in the last 5 years if at least 1 parent or legal guardian:
is already a New Zealand citizen, or
is applying for citizenship and meets the requirements.
Children aged 14 and 15 must: 
have the right to live in New Zealand indefinitely
intend to stay here after they get citizenship
speak English, and
prove they are of good character.
Children aged 13 and under must:
have the right to live in New Zealand indefinitely, and
intend to stay here after they get citizenship.
They do not need to:
speak English, or
prove they are of good character.
The Application Process
Once you believe you have met the requirements to apply for NZ citizenship, you will need to gather appropriate documents to support your application, apply and pay. 
What documents will I need to submit?
There are 3 things you must include with your application:
your full birth certificate or birth record
your current passport or your travel document — or your most recent one, if it has expired
a photo taken less than 6 months ago that meets passport photo requirements.
If applying online, you will need an identity referee to confirm you are who you say you are. An identity referee must:
be aged 16 or over
have a current or expired New Zealand passport
have known you for at least 1 year, or since birth
not be related to you or part of your extended family
not live at the same house as you
consent to act as your referee
understand that they may be contacted to verify details about your application.
If applying in person or by post, you will need to get a witness to sign the back of 1 of your passport photos and complete the witness section of your application form.
Cost of the application
Applying for citizenship by grant costs:
$470.20 for adults aged 16 and over
$235.10 for children aged 15 and under.
Dual Citizenship
NZ allows dual or multiple citizenship, however, some other countries do not. If your country of origin does not allow dual citizenship, this would mean you might have to renounce your citizenship of birth in order to become a New Zealand citizen.
Book here to discuss this with one of our licenced migration agents.